The trial production of DRR500 latex separator was completed
2019-01-01
---
In recent years, with the continuous breakthrough and development of new thinking, new technologies and new methods, the technological innovation of the separator industry is also deepening. As an old-fashioned enterprise in the separator industry, Guangzhong Separator Company should also contribute its wisdom and strength in this great technological development trend.
As an established traditional enterprise, in-depth insight into consumer demand is a strong guarantee for an enterprise to remain invincible. After extensive market research and in-depth industry analysis, the company found the urgent needs of customers. There is a strong demand for high-parameter latex separators both at home and abroad. The company decided to develop DRR500 latex separators based on its existing research and development capabilities. After more than a year of hard work by all employees of the company, the prototype of the product has recently been completed and passed the factory inspection. All indicators have met the design requirements, and then will enter the type test stage. At that time, the product is expected to become the new separator of the separator company. Profit growth.
DRR500 latex separator is a manual slag discharge disc separator, which is specially used for concentrating latex and clarifying impurities in latex. The drum material of this machine is made of high-strength and corrosion-resistant stainless steel. The drum needs to undergo strict inspection and mechanical performance tests, so the drum strength is safe and reliable, and the drum and internal components are accurately dynamically balanced to ensure the smooth operation of the machine . In order to meet the needs of different customers, the R&D personnel have also developed two sets of different discs, and customers can choose one set according to their material requirements. The separator has the advantages of compact structure, convenient operation, simple maintenance and good separation effect.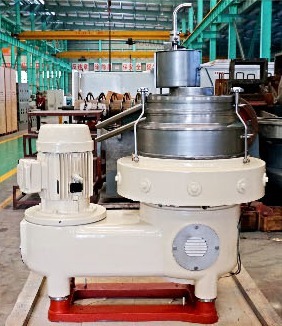 Address: Room 1718, Dabiao International Center, No. 238, Changgang Middle Road, Haizhu District, Guangzhou
Fax: 020-84337014
Scan the code to follow us
---